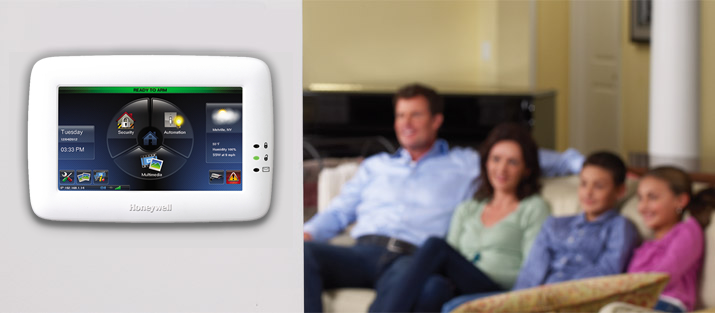 There's a Honeywell security system for every lifestyle, budget and need. And they do more than keep you and your family safe and secure…they give you peace of mind and can even keep you connected to your home wherever you are. Their products are easy enough for every member of the family to operate, providing a level of simplicity and convenience you'll really appreciate.
Tuxedo Touch™ by Honeywell
The Honeywell Tuxedo Touch is a high-resolution graphic touch screen that can also talk. It can act as a security system, home controller, family message centre, and camera viewer. The Honeywell Tuxedo touch works with the Z-Wave home automation, which allows consumers to manage their thermostat, turn lights on/off, open curtains, and unlock doors all with the click of a button. It can also work as a security system with additional programming. You can access cameras from the touch screen and share messages with family members.
When pairing Tuxedo Touch with Honeywell Total Connect Remote Services, a consumer can use the same smart phones or tablets they use every day to unlock a door for a family member or control their lighting, heating and cooling systems so they arrive to a comfortable, well-lit home. They can also receive email or video alerts about important events such as when or whether a child has arrived home from school, if floods, leaks or extreme temperature changes have been detected or if motion has been sensed in a protected indoor or outdoor area.