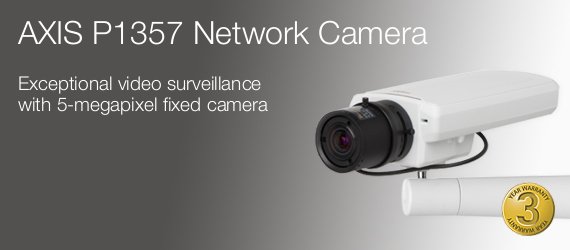 AXIS P1357 Network Camera enables coverage of a large area and extremely high image detail with 5-megapixel resolution or full frame rate HDTV 1080p in H.264 and Motion JPEG. The day/night camera features a P-Iris lens for optimal image clarity, in addition to digital PTZ and multi-view streaming. Two-way audio, audio detection, video motion detection, active tampering alarm and an SD/SDHC slot for optional local storage are also supported. AXIS P1357 is ideal for use in airports, banks, schools and stores.
Superb video quality in HDTV and 5 megapixel
P-Iris control
Multiple H.264 video streams
Digital PTZ and multi-view streaming
Axis P1357-E is also Outdoor Ready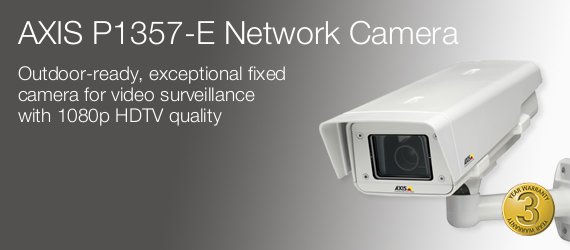 AXIS P1357-E Network Camera presents a top-of-the-line, 5-megapixel outdoor-ready network camera with HDTV 1080p performance, precise iris control for optimal image clarity and H.264 compression. It is suitable for outdoor use at airports, banks, shops, for city surveillance and any application that requires coverage of a large area or extremely high image detail.