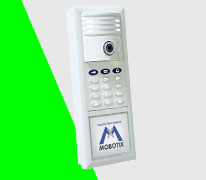 Intercom security systems are a safe way to identify who is at your door or gate without you having to step outside the safety of your premises. Intercoms can be video and audio, or just audio, and they can be expanded to include multiple doors and monitoring stations.
Aztech Integrated Systems design, install, maintain and manage a range of standalone or integrated intercom systems and solutions using either audio and or audio/video devices for secure communication and identification. Audio Intercoms Systems are becoming more and more popular as a real means of added security and peace of mind for commercial, industrial and residential premises to secure all entry and exit points.
Intercom systems can be integrated with other security products such as CCTV  to provide an additional level of protection to you and your property. For larger applications, the commercial intercom system can be integrated with the access control systems, security alarms, CCTV, lift controllers or other components required for that specific site.
We welcome you to explore these services further via the links below. If you have any questions or need a hand, please contact us.
View product
View product
View product