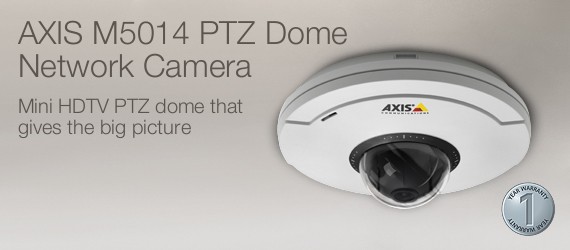 AXIS M5014 PTZ Dome Network Camera is a palm-sized, HDTV 720p pan/tilt/zoom camera that is affordably priced for remote and discreet monitoring of indoor areas such as stores, banks, hotels, office lobbies, restaurants and warehouses. The camera is dustproof and protected from dripping water, enabling video to be taken even when a sprinkler system is activated. The built-in microphone enables users to listen in remotely and audio to be recorded. Audio detection allows unusual sounds or noise detected during off-hours to trigger alarm events. The MicroSD/SDHC card slot enables several days of recording on a MicroSDHC card.
Pan, tilt, zoom in an ultra-discreet design
HDTV 720p and H.264
IP51-rated protection against dust and dripping water
Power over Ethernet (IEEE 802.3af)
Built-in microphone and audio detection
Axis M5014-V is also Vandal Proof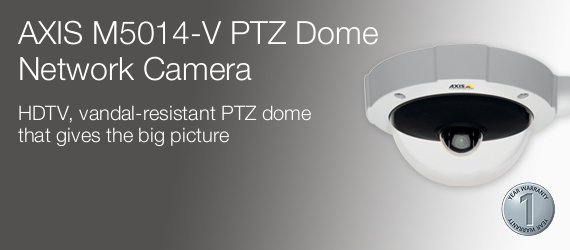 AXIS M5014-V is protected against the ingress of dust and high pressure water jets from any direction and is rated for protection against impact and vandal acts. It is ideal for use under ceilings at airports and other semi outdoors places where there is a risk for vandalism.