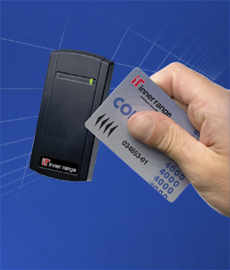 Secure Access Control Systems prevent unauthorised access to restricted areas and are central to any corporate security system that needs to secure important, confidential, or sensitive information and equipment.
Integrated security and access control products provide solutions ranging from single door entry systems through to multinational enterprise systems.
Users have one security keycard, remote or fob for security access to lifts, boom gates, entry/exit points and alarmed areas. Access control also gives the administrator full functional control including extensive history reporting and the ability to add, edit and delete users. Access control can be operated remotely, enabling a central administrator with a PC to manage the system.
A typical access control system may include:
An identification device – users are given an ID device such as an electronic tag/fob to access the building.
Readers – enable users with an ID device to gain access to pre-programmed areas.
The door controller- the backbone of a multi-door access control system responsible for deciding whether to allow or deny entry based on the information received by the reader.
Building Access Control Allows:
Full Reporting eg; who accessed what door, when, where and how
Timed access control
Power and Lighting control
Integration to building management systems
Automated door and gate control
Lift and Intercom Control
Simple to use software for site management
Custom Programming to suit your requirements
Aztech Integrated Systems specialise in the Inner Range Concept and Integriti platforms and as such, have the expertise and track record in providing secure access control solutions and systems for a range of Residential, Commercial, Industrial and Government clients.
View Products
Salto Electronic Access Controls
View Products