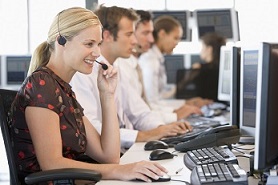 With a significant increase in crime on the Gold Coast in recent years, back to base alarm monitoring should be an essential part of every security system. A monitored alarm provides a continuous record of conditions at your property, so you have a complete picture of what has occurred even in your absence. Any change in conditions can be transmitted immediately to the control room and the appropriate response initiated. It only takes a matter of seconds from alarm activation to notification of the monitoring service to provide a response to intruder alarms, duress alarms, power failures and electrical or equipment faults.
At Aztech Integrated Systems, we provide contract free back to base alarm monitoring from as little as $1 a day (ex GST). Your alarm will be  connected to our monitoring station, which is manned by experienced personnel 24 hours a day, 365 days a year. In the event that your security alarm is triggered, our station is immediately alerted and your preferred alarm event procedures are swiftly actioned to ensure the security of your premises.
Benefits of back to base alarm monitoring with Aztech Integrated Systems:
Property protection 24 hours a day, 7 days a week, 365 days a year
No time based or lock in contracts
Your preferred alarm event procedures will be followed
Monitoring & response activation by experienced personnel
The most cost-effective solution to ensure total security for as little as $1/day (ex GST)
Insurance premiums may be reduced as a result of having a monitored alarm
There are two ways that your alarm system can communicate with the monitoring centre:
This is the most common method but also the least secure. On activation of your security system, the alarm takes over the phone line and dials the monitoring centre to report.
PROS
Most homes already have a phone line in place, therefore no additional components will be required. (NB. ADSL users will however, require a filter.)
CONS
If the phone line is cut, the alarm cannot dial out and hence cannot notify the monitoring centre of the security breach.
Every time your alarm activates, you are charged for a phone call on your phone bill.
GPRS Secure Wireless Network
This is fast becoming the preferred method as no phone line is required and as a result, the communication path to the monitoring centre cannot be interfered with.
PROS
Communication path cannot be interfered with.
No extra call costs.
CONS
One off charge for the required unit.
Slightly higher quarterly monitoring charges.