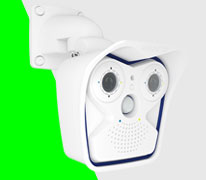 Closed Circuit Television (CCTV) Camera Surveillance Systems are an effective way of keeping an eye on your household, business and belongings. At Aztech Integrated Systems, we supply, install and commission CCTV Systems for a wide variety of applications. We custom design camera surveillance solutions ranging from one or two cameras right through to corporate multi-camera installations across vast sites. We utilise video recording systems which allow remote viewing of camera footage via password protected software on your PC, laptop or smartphone. This in turn reduces the likelihood of false alarm guard patrols, as your property can be viewed within seconds and the requirement for a patrol visit more reliably ascertained.
CCTV cameras can be seamlessly integrated with other security products –such as alarm systems or automated sliding gates– in order to bring a further dimension of security to your property.
We do not believe in the "One System Fits All" approach, so our fully trained professional Security Specialists will evaluate the specific requirements of each individual client and deliver a customised CCTV solution to suit their specific site, organisational need and budget.
Aztech Integrated Systems choose from a number of tried and tested CCTV security camera products, a sample of which is shown below. If you have any questions or would like to arrange a meeting with one of our qualified staff, please contact us.
Milestone Systems XProtect® Video Management Software
View Products
View Products
View Products
View Products