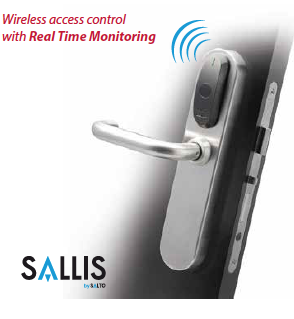 Whether you manage a hotel, university, airport, hospital, a corporate building or a government institution, and whether you need to control 6 doors or 64.000 doors, you need an access control partner you can rely on. SALTO access control systems are designed to work in a wire free environment so there is no need to hard wire the building, allowing you to keep your original doors and locks in place. This makes installation fast, self-contained and straightforward.
Why Choose Salto Electronic Access Controls?
If you are looking for protection from uncontrolled access, SALTO can deliver the perfect solution, tailored to your exact requirements to provide you with all the security, convenience and control you need.
90% of the benefits of a fully online access control system at the cost of a standalone system.
Wireless Access Control System, no cables to run, no mains power required.
Proven reliability and scalability having been installed on more than 4500 projects worldwide, controlling access to over 700,000 doors.
 What is the SALTO Virtual Network?
Salto's Virtual network works by transferring all the changes made on the access control system between the access doors through the cards themselves. Data from the software database is uploaded to the smart cards through the "hotspot" doors. These doors are connected into the IT network.

Integriti with Salto Sallis
The Integriti Security Management Platform includes a powerful bi-directional interface to the Salto Sallis wireless locking system. This interface provides the full capability of the Integriti access control system to both fixed wired doors Salto Sallis wireless doors without compromise or limitation. With no need to wire directly down to the door when using Sallis wireless locks, installation costs are dramatically reduced.