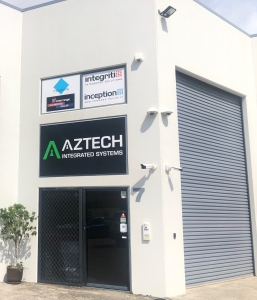 Aztech Integrated Systems is a locally owned and operated electronic security company servicing the Gold Coast, Brisbane and the greater South East Queensland area. We pride ourselves on our professionalism and our ability to consistently provide a high level of service provision and ongoing support to our clientele with repeat business being a testament to our achievement as a quality electronic security provider.
From design and installation, to service and ongoing maintenance, at Aztech Integrated Systems we understand that each site is different. As such, our well trained and fully licensed security consultants will survey your premises and recommend the most appropriate solution to meet your immediate needs and ensure they are scalable for the future. Our integrated electronic security systems utilise world-class, leading-edge technologies to deliver innovative, value for money solutions, balancing your technical requirements against budget. With ongoing commitment, we have grown with the security industry, embracing new technology and innovations to provide the highest quality installations, products and services.
Our founder, Aaron Caruana is a fully qualified and licensed Security Technician with more than twenty ( 20 ) years experience in the security industry. He was fortunate enough to complete his trade apprenticeship with one of the then Owners/Directors at Inner Range and as such, his knowledge of the Inner Range product is exemplary.
With Aaron preferring to compile all quotations himself, we can guarantee that our security recommendations are provided by someone with extensive industry knowledge and experience. His expert consultation will ensure that you get the most appropriate security solution for your home, business or building complex.
Aztech Integrated Systems are an Inner Range Accredited Dealer, a Certified Mobotix Partner, an Axis Communications Partner and a Certified Partner of Milestone Systems.