Inception is an integrated access control and security alarm system with a design edge that sets it apart from the pack. With web-based software built directly into the main system controller, the Inception system is easy to access using a web browser on a computer, tablet or smartphone.
Budget Friendly Security Solution
The Inception system is a budget friendly security solution that is both powerful and very flexible. With no software costs and truly universal inputs & outputs, Inception can often be deployed as a stand-alone controller reducing the need for additional hardware.
Inception's web-based interface is the gateway to convenience. For end users, the Inception system is simple to control and leverages your existing smartphones, tablets or computers. The Inception Security System is connected to your local network, meaning you can use almost any web-enabled device to access your system, including hard-wired desktop or Wi-Fi connected devices.
If you're out and about, getting connected to your Inception system is no different. Inception takes full advantage of the Inner Range SkyTunnel system which provides a secured connection back to your system. Providing your smartphone or tablet can get a connection to the Internet, SkyTunnel will do the connecting part for you, giving you powerful and convenient control wherever you are.

Inception is an access control and security system designed for use as a stand-alone system within small to medium size buildings and facilities. With ease of installation and its native web-based control, Inception offers a powerful, ultra-modern and affordable approach for managing your security needs in facilities such as:
Commercial offices, warehouses and factories
Retail shops, restaurants and cafes
Smart Apartments
Smart Homes
There are many more applications where Inception can be deployed as a powerful and modern security solution.  The Inception system is scalable, meaning additional hardware modules can be connected to the main controller to provide additional detection inputs, access controlled doors and even automated functions.
Inception System Capacities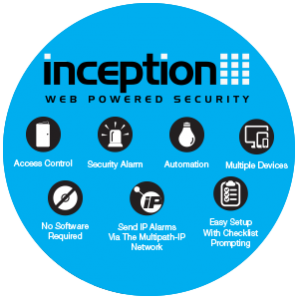 Access Controlled Doors – Up to 128
Card Readers – Up to 256
Security Monitored Areas – Up to 32
Inputs – Up to 512
Outputs – Up to 512
Lift Cars – Up to 32
Card Holders / Users – Up to 10,000
Event log – Up to 50,000 events
At the heart of the Inception system is the "Inception Controller". This is a comprehensive web based security system controller offering powerful and scalable functions for the control and management of Intruder detection, Door & Lift Access Control and Automated Controls.
 
Security Alarm & Intruder detection:
Inception is a fully featured intruder detection system capable of monitoring up to 512 detection points with powerful security monitoring features, which tightly integrate with Inception's access control function.
 
Access Control:
Inception is a powerful access control system capable of providing physical access for up to 128 doors and 256 card readers, or 32 Lift Cars. The access control system provides logical and clever integration with the security alarm function.
 
Automation:
Inception's universal inputs and outputs can be used for monitoring and automated actions and control of systems such as lighting, air conditioning and many other systems. Convenient control is provided via Inception's web-based interface giving you convenient and flexible control directly from a tablet or smartphone.
 
Multiple Devices:
The Inception web interface is responsive, meaning that the layout of the interface is automatically adjusted to suit the device you are using to access it. This keeps Inception's navigation and controls easy to follow, regardless of which device is being used to access it.
 
IP Alarm Transmission:
Inception is designed for the modern age of alarm transmission, and is equipped with IP alarm communication functions straight out of the box. Inception can be connected and monitored via its on-board Ethernet connection using the Inner Range Multipath-IP system. Or it can be teamed up with a T4000 alarm communicator to provide dual-path IP alarm transmission using 3G wireless communications networks.
 
Built-in web server (No Software Required):
With the web-based software interface being built directly into the Inception system controller, there is no need to install security management software onto a separate computer. This provides a quick and hassle-free installation process and outstanding convenience for daily operation and control. It also eliminates any chance of software/hardware version clashes.
 
Integration:
Inception features powerful integration options for use with Control 4 Home Automation systems. Integration with the Control 4 allows flexible control and synchronisation of security, access control, inputs and outputs from either system. Inception also features a powerful 3rd party automation interface to allow custom integration with many building automation and control systems.
 
Easy Commissioning:
Inception features an industry-first "Commissioning Checklist". The checklist is an interactive guide for the installer, taking them through all the items that need to be programmed and tested in a logical order. This ensures that the Inception system is programmed and installed both quickly and accurately.